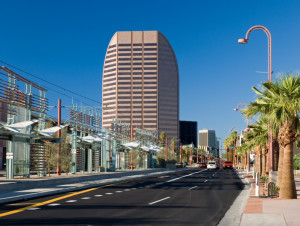 Find out about residential real estate trends in Greater Phoenix, by not only reading The Wilcox Report, but also by watching interviews with local real estate agents that specialize in geographic areas such as the East Valley, the West Valley or cities such as Scottsdale or Phoenix, or sub markets such as the Biltmore area or DC Ranch.  In addition to geography, real estate agents are interviewed that have specialties such as working with first time homebuyers, finding homes for move up buyers, helping sellers downside, and listing luxury homes.
For a number of years residential real estate in Greater Phoenix has gotten much local and national attention from the news media. The news was on the Greater Phoenix real estate crash. News on skyrocketing foreclosures and how fast home values were plumeting. Greater Phoenix was defined as a market in decline. Now, there is a reverse course. News is now on how we are leading the country in single family residential price gains, how investors have flocked to our area paying cash and bidding up prices, how there is a shortage of resale inventory, while there is an abundance of buyers, and how the number of foreclosures are greatly diminished. Since trends in the Greater Phoenix real estate market often lead the country, real estate and lending professionals from other parts of the country watch and study our market. The Wilcox Report.com is sometimes the first to report on Greater Phoenix real estate and lending trends, and often information in the report is used by local and national media.
Fletcher is proud to be part of Grand Canyon Title Agency, Inc. The company has been closing escrows in Greater Phoenix for thirty-five years and has sixteen escrow offices in the Valley. Fletcher was born in Yuma, Arizona and grew up in Phoenix, graduating from Central High School. He received a Bachelor of Science degree and a Master of Arts degree from Arizona State University. In 1985 obtained an Arizona Real Estate license and in 1986 co-listed and closed his first property, a $2.5 million dollar commercial property.
He is a member or past member of the following associations:
Arizona Association of Realtors
Arizona State Escrow Association
Scottsdale Area Association of Realtors
Scottsdale Chapter Women's Council of REALTORS
Past statistician for the Scottsdale Luxury Tour
Statistician for the Heart of Scottsdale Tour
Current member and past V.P. of Education Arizona Mortgage Lenders Association
Fletcher is author of The Wilcox Report previously called Residential Focus. This report provides statistics and analysis for single family real estate trends in Greater Phoenix; He is a contributing columnist for the Arizona Journal of Real Estate & Business and has written for Arizona Realtor Magazine a publication by the Arizona Association of Realtors. He has been a guest speaker on KTAR, KJZZ/NPR, KFNN, channel's 3, 10 and 12 and a guest on the Horizon show on channel 8.
His residential analysis has been mentioned in the Arizona Republic, AZCentral.com, Phoenix Business Journal, East Valley Tribune, Bloomberg News, Dow Jones MarketWatch, National Mortgage News and HousingWire.com. He teaches renewal courses on the Residential Resale Real Estate Purchase Contract, and is often moderater at real estate and lending seminars. Fletcher joined Alice Cooper's Solid Rock organization as a board member. The organization promotes music and the arts and has opened a center for teenagers in Phoenix http://www.alicecoopersolidrock.com/ Fletcher served eleven years as a citizen board member on the Phoenix Police Department's Disciplinary Review and Use of Force Boards.