First Quarter 2017 Results
Previously Owned Single Family Homes
Maricopa County  
Data compiled from the Arizona Regional Multiple Listing Services, Inc.
Sales volume in the first quarter of 2017 was the highest since 2006, which was before the great real estate recession. First quarter 2017 sales volume was 18.1% higher than the first quarter of 2016.
Sales volume for this report is the total of the sale prices for previously owned single family homes.  An example of  sales volume would if a real estate agents sold 20 homes and the sales price for each home was $250,000 their sales volume would be $5,000,000.
Sales volume is a health indicator of a real estate market.  It not only speaks on the number of sales, but also on their sale price.  It may show if prices are decreasing, flat, or increasing.  For example, in the first quarter of 2017 there were 15,622 sales for a sales volume of $5,016,013,713.  The average or mean sale price was $321,086.  Compare this to first quarter of 2012 when there were more sales, 16,405, but sales volume was lower, $3,144,327,127.  The average sale price then was $191,668.
The 2017 first quarter average sale price of $321,086 was $15,471 or 5% higher than the first quarter of 2016 average of $305,615.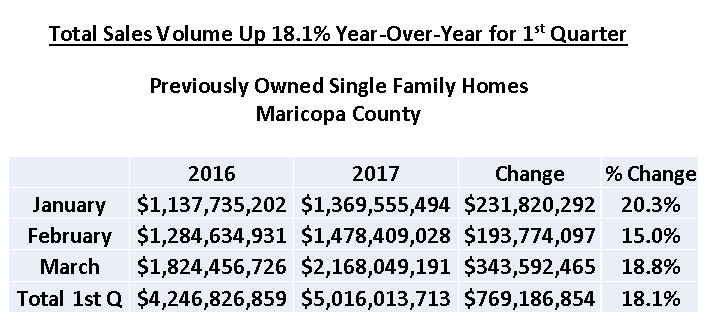 A Formula for Price Increases
While sales were up 12.4% in the first quarter of 2017 year-over-year, new inventory was flat.  There were 1,726 more sales and 81 less new listings.
If the trend of more sales and less inventory continues prices will go up in the price ranges with heavy demand.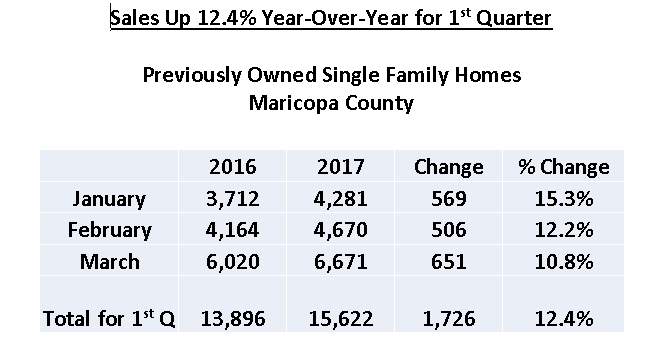 Coming soon will be the estimated months of supply by price range.
Below enter your email address to subscribe to this blog and receive notifications of new updates to The Wilcox Report by email.
Open your next escrow with our Scottsdale office located at 8520 E. Shea Blvd., Suite 115, 85260.

Fletcher R. Wilcox is the author of The Wilcox Report and Vice President of Business Development for Grand Canyon Title. His market analysis has been referenced in the Wall Street Journal, Bloomberg News, HousingWire.com and National Mortgage News. He served on one of Arizona Association of Realtor's 2017 Residential Resale Contract subcommittees. He may be reached at FWilcox@GCTA.com  or by phone at
602-648-1230

.

Television interviews

My interview with Gerri Willis on the Fox Business News Network

Interview with Jim Belfiore on Square Off Arizona. Topic: The President and Housing.

Interview on Horizon on housing market.